Miguel Harth – Bedoya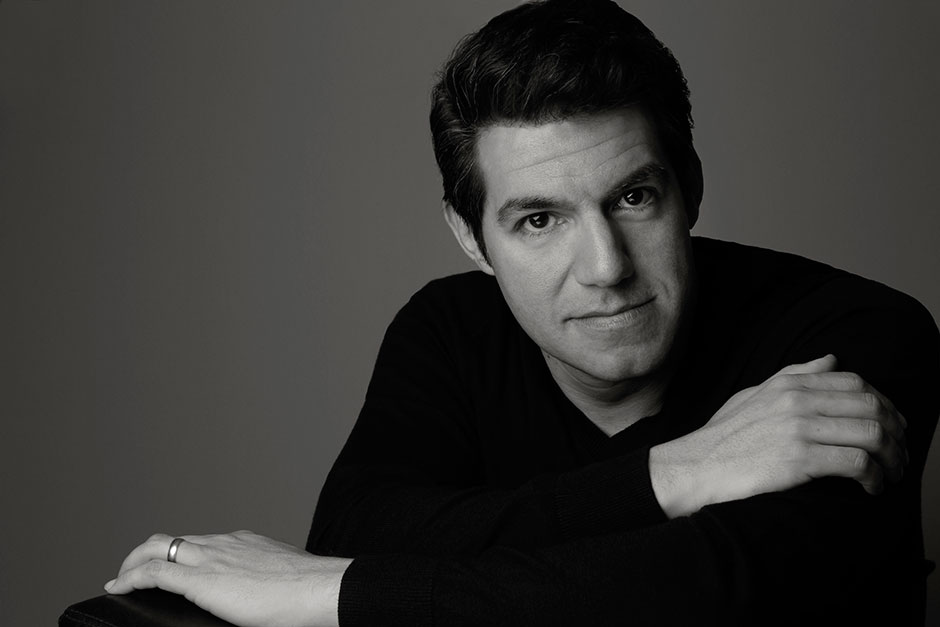 Miguel (Abschlussjahr 1985) widmet sich seit der Schulzeit der Musik. Seit der dritten Sekundaria arbeitete er an der Oper. Dort half er bei den Inszenierungen, bei der Beleuchtung, beim Heben oder Senken der Vorhänge oder bewies sich als Souffleur. Er erzählt uns: "In den beiden letzten Schuljahren habe ich, wegen meiner Arbeit an der Oper, allerdings viel gefehlt. Manchmal fand ich es sehr lustig, dass ich dort Brecht lesen musste. Sobald ich die Schule abgeschlossen hatte, merkte ich, dass ich nichts extra lernen musste, denn alle Schulfächer waren mir stets präsent. Dank des Literaturunterrichts habe ich eine gute Basis. …" Quelle Jahrbuch 1990
Im Folgenden seine eindrucksvolle Biographie:
"A conductor who combines rare and probing subtlety with an unfettered intensity of expression." – The Washington Post
Grammy-nominated and Emmy Award-winning conductor Miguel Harth-Bedoya is currently Chief Conductor of the Norwegian Radio Orchestra/Oslo and will be beginning his fifteenth season as Music Director of the Fort Worth Symphony Orchestra in 2014-15. He is also the Founder and Artistic Director of Caminos del Inka, a non-profit organization dedicated to performing and promoting the music of the Americas. The organization's multimedia orchestral program, Caminos del Inka: A Musical Journey, was premiered by the Chicago Symphony Orchestra and also performed by the Boston Symphony at Tanglewood, The Philadelphia Orchestra, Baltimore Symphony, Seattle Symphony, Fort Worth Symphony, Grant Park Festival, Oregon Bach Festival, and worldwide by the Leipzig Radio Orchestra, the Aarhus Symphony Orchestra, and the Residentie Orkest in The Hague.
Major highlights of Mr. Harth-Bedoya's 2013-14 season include a gala performance featuring Yo-Yo Ma with the Fort Worth Symphony Orchestra at Bass Hall, an international tour in Oman and Spain with tenor Juan Diego Flórez and the National Orchestra of Spain, a performance of Osvaldo Golijov's opera Ainadamar with the New Zealand Festival and New Zealand Symphony Orchestra, and a performance leading the Sydney Symphony Orchestra in celebration of the 40th anniversary of the Sydney Opera House. In the upcoming 2014-15 season, Mr. Harth-Bedoya will conduct the world premiere of Jennifer Higdon's first opera, Cold Mountain, with Santa Fe Opera featuring Nathan Gunn in the principal role. He will also make guest appearances with the Los Angeles Philharmonic, Indianapolis Symphony Orchestra, Seattle Symphony, Bremen Philharmonic, Spanish Radio & TV Orchestra, National Orchestra of Spain, and the NHK Orchestra in Japan.
An active recording artist, Mr. Harth-Bedoya's recording projects in 2014-2015 include three discs for Harmonia Mundi: a world premiere recording devoted to the symphonic works of Peruvian composer Jimmy López; and piano concertos by Grieg and Saint-Saëns with Vadym Kholodenko, gold medal winner at the fourteenth Van Cliburn International Piano Competition both with the Norwegian Radio Orchestra; and the first of five planned recordings of the Prokofiev Piano Concertos with Mr. Kholodenko and the Fort Worth Symphony Orchestra. Mr. Harth-Bedoya and the Norwegian Radio Orchestra will also record violin concertos by Bartók and Mendelssohn with acclaimed violinist Augustin Hadelich for Avie Records.
Miguel Harth-Bedoya has appeared regularly with major North American orchestras such as Los Angeles, Chicago, Philadelphia, Cleveland, Boston, Atlanta, Baltimore, Milwaukee, Toronto, Montreal, and Quebec. In Europe, he has conducted the London Philharmonic Orchestra, the BBC Symphony in London, Munich Philharmonic, Orchestre de Paris, NDR Orchestra in Hamburg, Frankfurt Radio Orchestra, Berlin Radio Orchestra, National Orchestra of Spain, Orchestre de la Suisse Romande, Royal Scottish National Orchestra, and Helsinki Philharmonic. In 2010, Mr. Harth-Bedoya collaborated with soprano Renée Fleming for a tour of performances with five Scandinavian orchestras, including the Norwegian Radio Orchestra, Royal Stockholm Philharmonic and the Danish National Symphony. In Asia and the pacific, Mr. Harth-Bedoya has conducted the Sydney, Adelaide and Canberra symphonies of Australia, the New Zealand Symphony Orchestra, and previously toured Japan with the Juilliard Orchestra. He is a regular guest at major North American festivals, including Aspen, Tanglewood, Vail, Ravinia, Grant Park, Oregon Bach, and Grand Teton.
Appearing frequently in the world of opera, Mr. Harth-Bedoya has conducted numerous productions with the Canadian Opera Company, Minnesota Opera, Santa Fe Opera, Cincinnati Opera, and the English National Opera in London.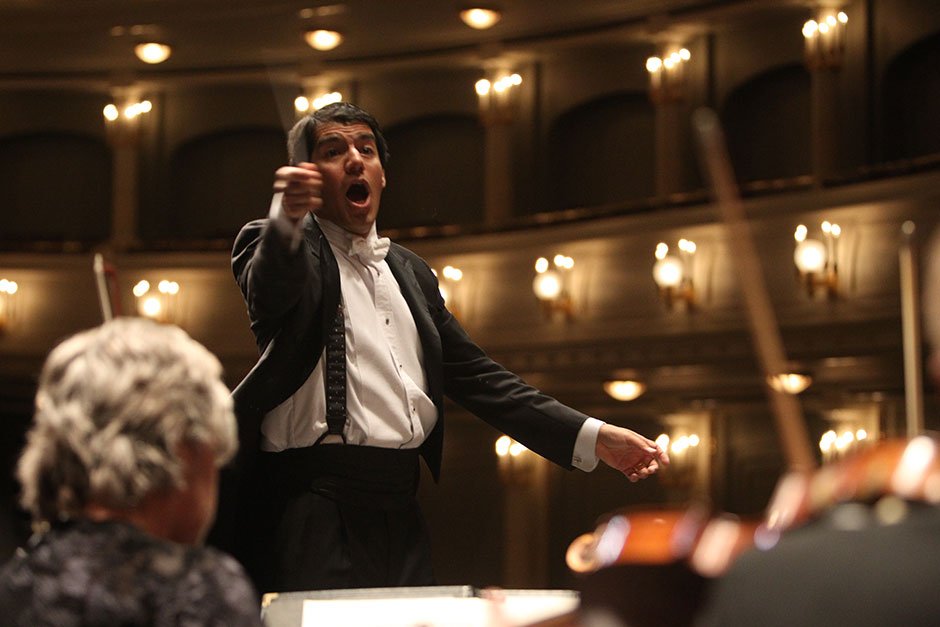 An active recording artist, Miguel Harth-Bedoya's discography includes Traditions and Transformations: Sounds of Silk Road Chicago with the Chicago Symphony and Yo-Yo Ma, which was nominated for two Grammy awards in 2009. In December 2011, Deutsche Grammophon released Nazareno, a highly acclaimed recording of music by Osvaldo Golijov with the Orquesta Sinfónica de Castilla y León with pianists Katia and Marielle Labèque. Kultur released a DVD of Puccini's La bohème, performed at the English National Opera in London, directed by Jonathan Miller and conducted by Mr. Harth-Bedoya in 2009.
With the Fort Worth Symphony, he has recorded Sentimiento Latino with Juan Diego Flórez (for Decca); the world-premiere bilingual recording of Prokofiev's Peter and the Wolf, featuring narrations in Spanish and English with Michael York; and SUR, (part of Mr. Harth-Bedoya's Caminos del Inka project) which includes works by Enrique Soro, Esteban Benzecry, Adolfo Mejia and Claudio Rebagliati. The Fort Worth Symphony Orchestra's Centennial Season in 2012-13 included the world premiere of Perú Negro by Jimmy López and a new recording, Take Six, which presents works by the FWSO's previous composers-in-residence: Jennifer Higdon, Kevin Puts, Gabriela Frank, Behzad Ranjbaran, Peter Boyer, and John B. Hedges.
Born and raised in Peru, Mr. Harth-Bedoya received his Bachelor of Music degree from the Curtis Institute of Music and his Master of Music degree from The Juilliard School. He studied conducting under Otto-Werner Mueller as well as with Seiji Ozawa and Gustav Meier at Tanglewood. Winner of the 2002 Seaver/NEA Conductors Award, Mr. Harth-Bedoya was previously Assistant Conductor of the New York Philharmonic under Kurt Masur, and Associate Conductor of the Los Angeles Philharmonic under Esa-Pekka Salonen. He also served as Music Director of the Auckland Philharmonia (New Zealand), Eugene Symphony (Oregon), Lima Philharmonic (Peru), and the New York Youth Symphony at Carnegie Hall.
He currently makes his home in Fort Worth with his wife Maritza and their three children, Elena, Emilio, and Elisa.
For more information, visit www.miguelharth-bedoya.com To learn more about Caminos del Inka , Inc. visit www.caminosdelinka.org
"He made the symphony soar…There is plenty of reason in this town to import Harth-Bedoya's passions, especially given how impressive he's become." - Los Angeles Times